Solutions for a Sustainable Management of Fluorinated Greenhouse Gases
17 septembre, 2021 @ 9:30

-

11:50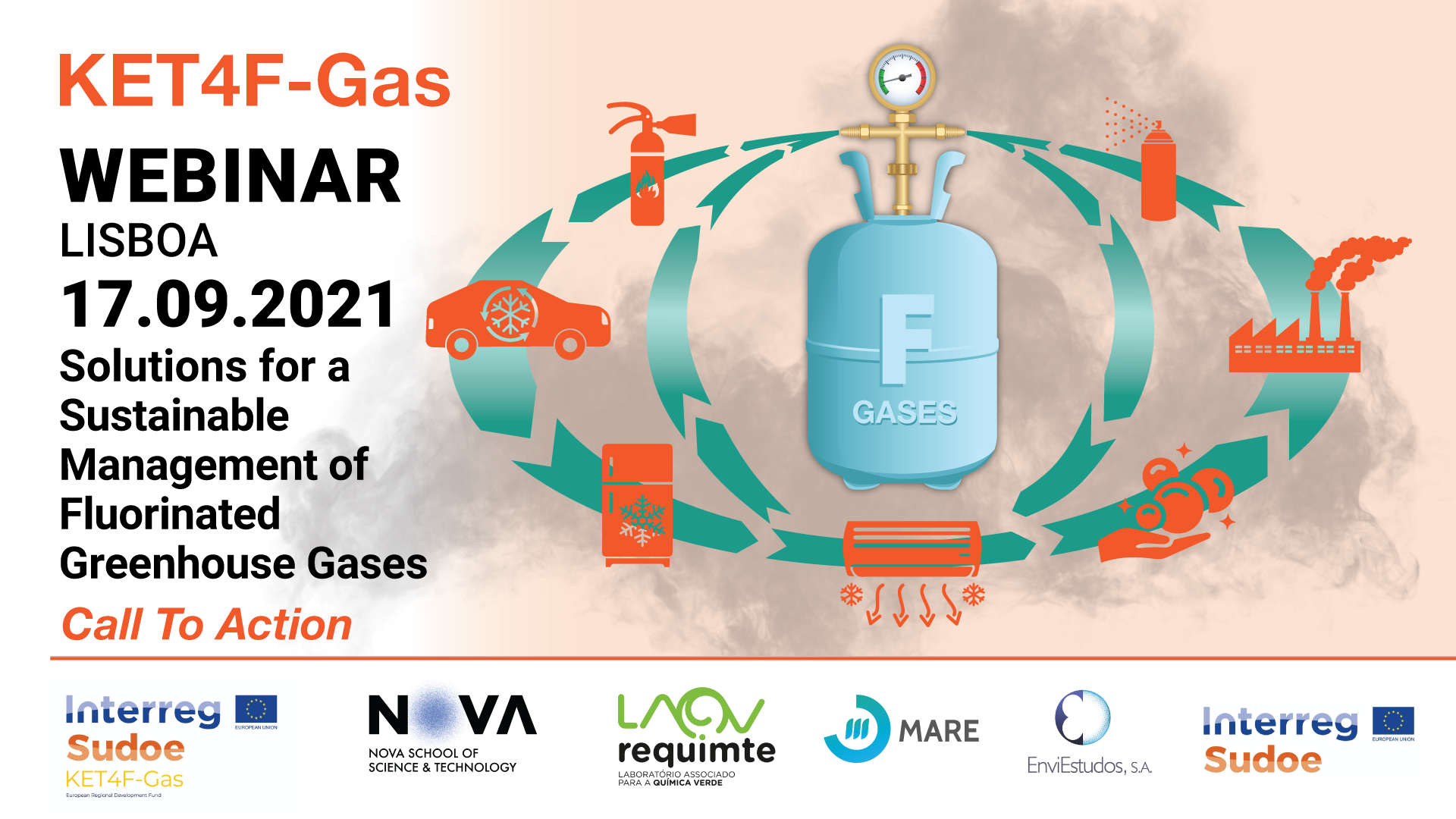 The World is facing serious problems due to climate change that must be addressed with urgency by all of us.
KET4F-Gas is an European project co-financed by the Interreg Sudoe Programme, aiming to reduce the environmental impact of fluorinated gases (F-gases), which have high global warming potential. These gases are used as refrigerants in the cooling and refrigeration sector and for several other applications. Different European legislations have been published with the aim to reduce F-gases emissions and to promote a circular economy. However, their practical application faces serious obstacles and the management of F-gases continues to be a problematic in the cooling and refrigeration sectors.
In this webinar the main results of the KET4F-Gas project, which is in its final stage, will be presented and discussed regarding their implication on the reduction of environmental impact of F-gases. Moreover, a panel of different stakeholders, such as public administration, entities related to the system of waste electric and electronic equipment management, waste management companies and operators, non-governmental environmental and consumer associations, producers and distributors, and companies from the cooling and refrigeration sector, will be present. This panel will discuss, with the contribute of the other remote participants, the results and main conclusions of the workshop Call to Action, which took place on April 29th, the problems and challenges of an efficient management of F-gases, and the solutions, policies, and strategies that must be applied.
Your presence is crucial. Do not miss this call, it is time to act.
Programme
9:30. Opening Session.
Diretor da NOVA School of Science and Technology: Professor Doutor Virgílio Cruz Machado

Agência para o Desenvolvimento e Coesão I.P.: Doutora Raquel Rocha

9:40. Presentation of KET4F-Gas project and Results. Ana Pereiro, Project Coordinator.


9:50. Presentation of the results of the social life cycle. Graça Martinho and Pedro Santos.


10.00. Presentation of the results of the Workshop Call to Action. Lia Vasconcelos and Filipa Ferreira


10:10. Panel discussion: Challenges and solutions for the F-gases problematic in the Refrigeration and Cooling sector.

Agência Portuguesa do Ambiente (APA): Ana Daam and Ricardo Afonso Almeida (Climate Change Departament);
Associação Portuguesa das Empresas dos Sectores Térmico, Energético, Electrónico e do Ambiente (APIRAC): (APIRAC): Nuno Roque (General Secretary);
Ambigroup: Aranda Correia (R&D Department);
Interecycling: Ricardo Vidal (General Director).
DAIKIN Airconditioning Portugal, S.A. Gil Jorge (Service Manager);
Duarclima-Climatização e Consultadoria Industrial Lda. (Tiago Duarte, Manager)
10:50. Coffee break
11:05. Panel discussion: Policies and strategies for an efficient management of F-gases.

Agência Portuguesa do Ambiente (APA): Ana Daam and Ricardo Afonso Almeida (Climate Change Departament);
Associação Sistema Terrestre Sustentável (Zero): Rui Berkemeier (Conselho Geral / General Council);
Associação Portuguesa para a Defesa do Consumidor (DECO Proteste): Elsa Agante (Team Leader Energy & Sustainability);
Electrão – Associação de Gestão de Resíduos: Mónica Luizio (Responsável de Controlo e I&D);
European Recycling Platform (ERP) Portugal e Espanha: Pedro Simões (Operations Manager);
E-cycle – Associação de Produtores de Equipamentos Elétricos e Eletrónicos: Carolina Duque (Responsável da Área Ambiental/ Responsible of the Environment Department);
11:50. Closing Session
Secretary of State for the Environment, Doctor Inês Costa